Our K-9 Unit consist of three teams at this time, one canine and one handler per team. The teams support all divisions of the department and will also assist outside agencies upon request.  The teams perform a variety of tasks to include drug and article detection, suspect apprehension, missing persons, conducting building searches, serving high risk warrants and special event appearances. The K-9 Unit is a valuable supplement to police manpower because of their physical capabilities.
The vehicles we use for the K-9 teams are equipped with a special cage for the canine, a heat sensor system to regulate the temperature of the canine while inside the vehicle, and the hot and pop system that allows the handler to remotely release the canine when needed. Our canines are considered to be police officers and they even carry their own first aid kits. They also provide high visibility for the community which promotes an increased sense of security for our citizens.
K-9 Commander Sgt. S. Buice and his partner "GORAN"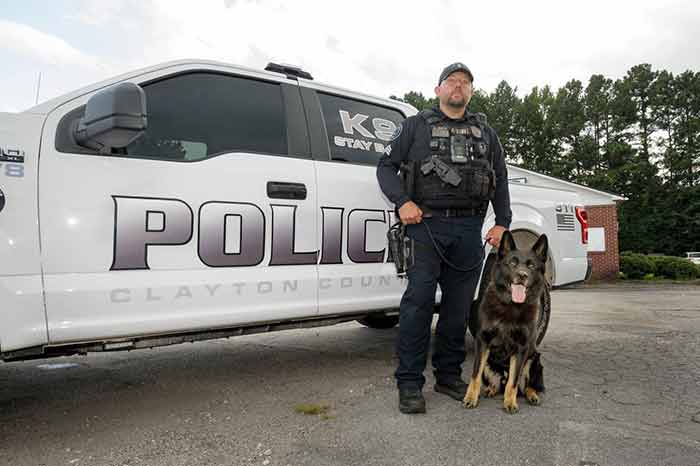 I received GORAN on April 2018 after completing an 8-week handler course at Highland Canine Training in Harmony North Carolina. At the school, the staff had labeled GORAN as a "Problem Child" and approached him with "Kid Gloves". After forming a bond with GORAN, I learned that he was misunderstood and just a big baby. GORAN is a 4 year old German shepherd from Germany who is very protective of is handler. GORAN has been certified by the National Narcotics Detector Dog Association (NNDDA) for patrol and detection. Sgt. S. Buice and GORAN are attached to the Uniform Division and patrol Sector 3.
Officer A. Kendrick and his partner "HOMER"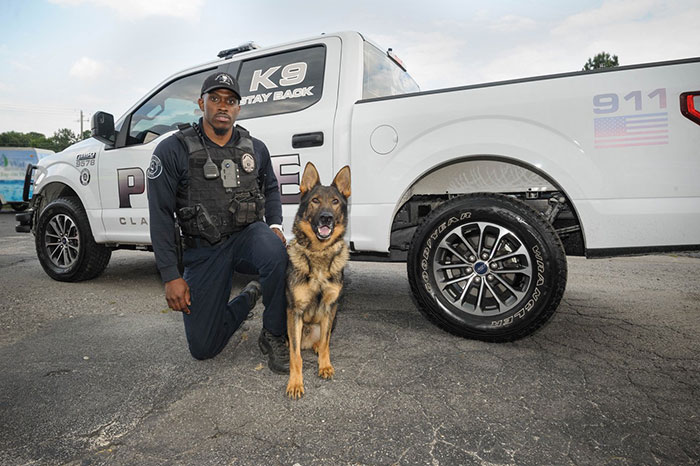 On November 18, 2017, I was selected to become a member of the Clayton County Police K-9 Unit. In March of 2018, I attended K-9 school (Highland Canine Training) in North Carolina, where I was introduced to my K-9 partner (Homer). I was told that Homer turned 1 year old and was born in Germany. While in North Carolina, I formed a bond with Homer in which we immediately became inseparable. During K-9 school, Homer was being imprinted on marijuana, cocaine, methamphetamines, heroin and Methylenedioxymethamphetamine (MDMA). Homer and I finished with K-9 school in May of 2018, and we became nationally certified by the National Narcotic Detector Dog Association (NNDDA) on August 27, 2018. Homer is approximately four years of age and on November 4, 2021, Homer will turn five years old. Homer can be described as chill and laid back, until it's time to find the bad guy(s), that is.
Sgt. J. Williams and his partner "WARO"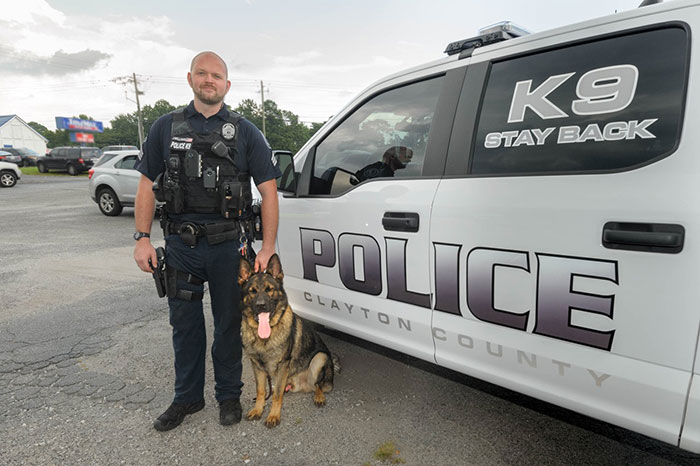 Sergeant James Williams received K-9 Waro on March 22, 2021 from Tarheel Canine in North Carolina. K-9 Waro is a two-year-old male German shepherd that was born in Slovakia and has been trained in patrol and detection through Tarheel Canine prior to being paired with his Handler. Handler Williams and K-9 Waro certified as a team at Tarheel Canine on April 30, 2021 and returned to Georgia where Handler Williams and K-9 Waro continue their training and certification with the National Narcotics Detector Dog Association (NNDDA) for patrol and detection. Sgt. J. Williams and K-9 WARO are attached to the Uniform Division and patrol Sector 2.