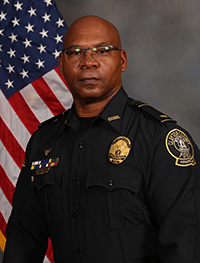 Lieutenant Kenneth Cameron
7911 North McDonough Street
Jonesboro, GA 30236
When does the police academy start?
Academy classes begin when a suitable number of recruits have been accepted for training. Actual class sizes vary from session to session.
Will I get paid while I am enrolled in the police academy?
Yes. You become a paid employee of the Clayton County Police Department once you complete processing and will be paid at the current rate for Police Officer I.
How long is the police academy?
Georgia POST requires that law enforcement recruits attend 10 weeks of basic mandate classes. The Clayton County Police Academy is 18 weeks of intense training that exceeds the state's requirements by over 300 hours. Graduates of the Clayton County Police Academy enter the Field Training Program with the knowledge and physical skills needed to be a successful police officer.
Do I have to attend the academy if I am already a Georgia POST certified peace officer?
Georgia certified officers who have at least two years working experience answering calls for service in a uniform patrol capacity are considered for immediate placement into the Field Training Program.
Can I miss any of the academy and still pass?
POST mandates that recruits can miss no more than 5% of the required classes no matter what the reason. This means that any recruit that misses more than 20.4 hours of the 408 required subject hours by POST will be dismissed from the academy class in which they are enrolled. POST further states that any recruit missing more than 5% of an individual class that requires s Specialized Instructor (i.e. Firearms, Defense Tactics, Emergency Driving) will also be dismissed as well. Attendance is strictly monitored and enforced.
Do I have to participate in physical fitness in the academy?
Yes. All recruits are required to participate in daily fitness activities. It is recommended that recruits prepare themselves physically prior to the first day of the academy.