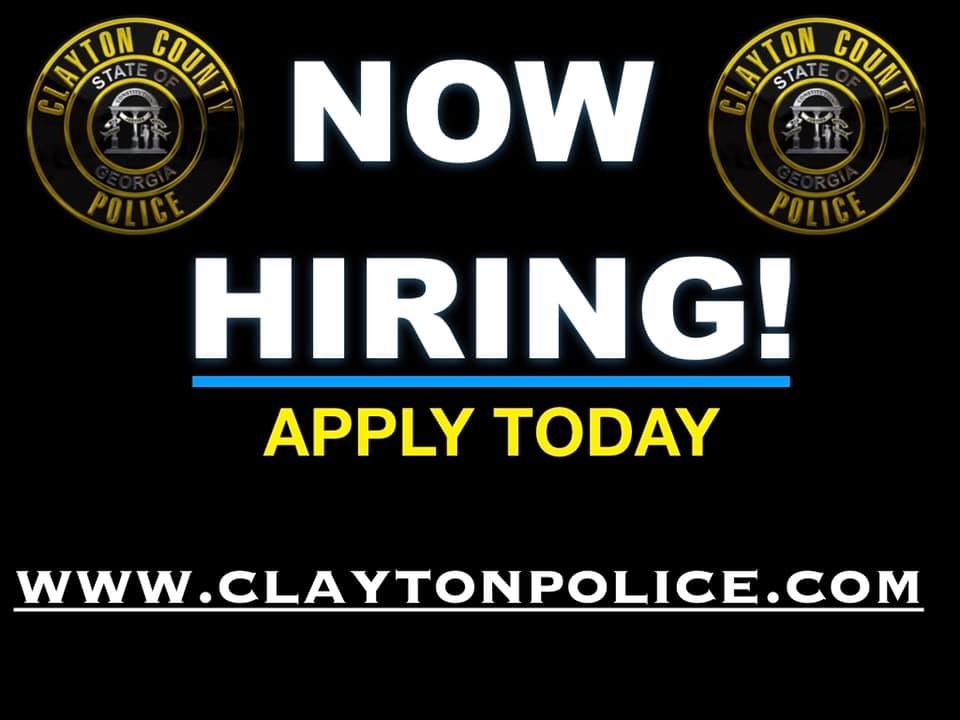 We invite you to explore a career with Clayton County Police Department and join the team in serving the citizens of Clayton County.
Please click here to view our current openings.
*For any questions or concerns feel free to contact the Recruitment Hotline at (770) 477-3534*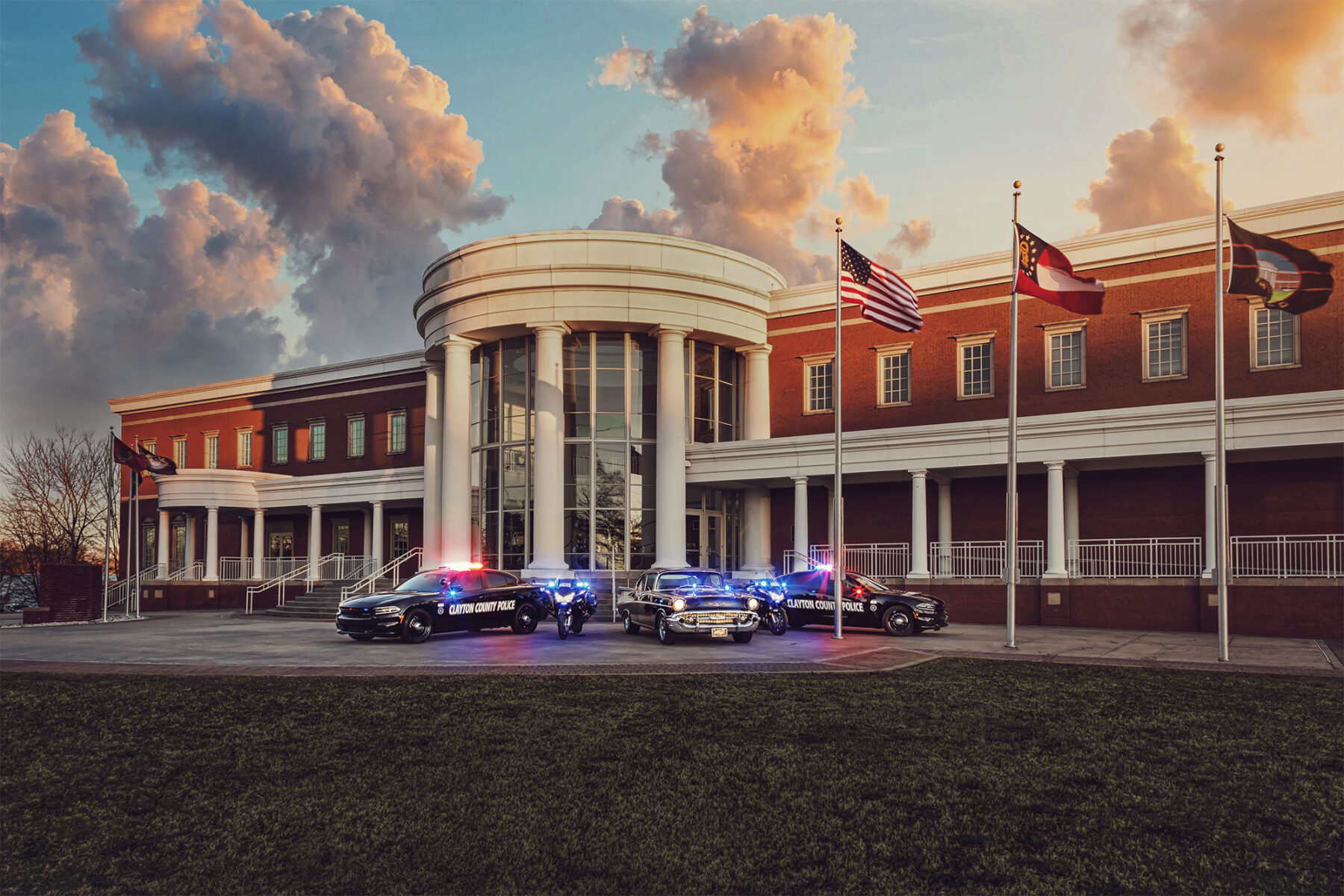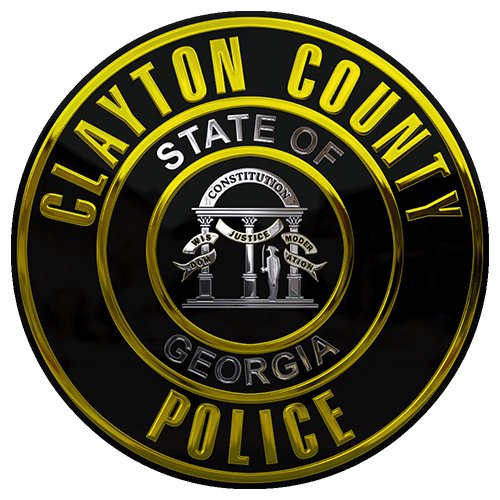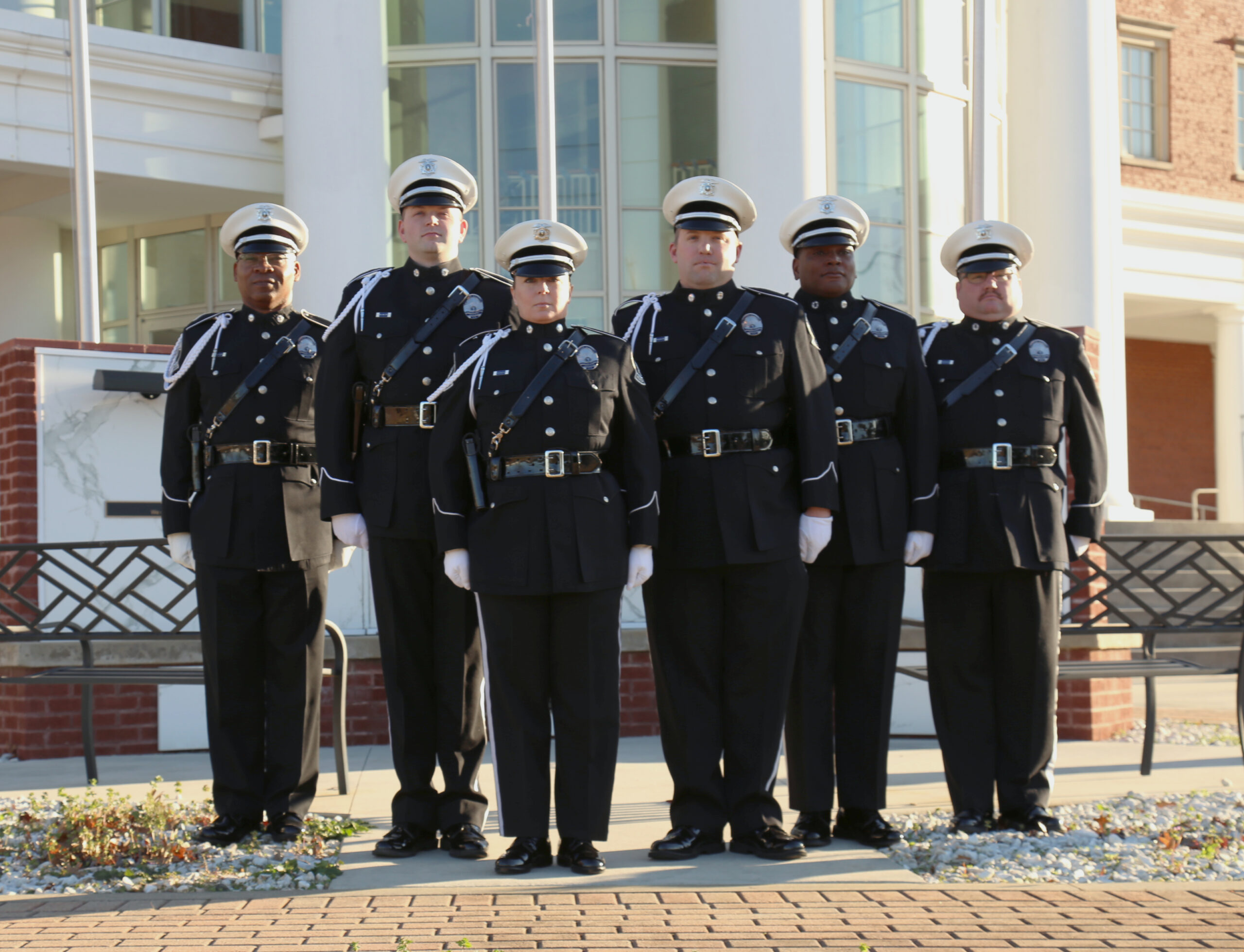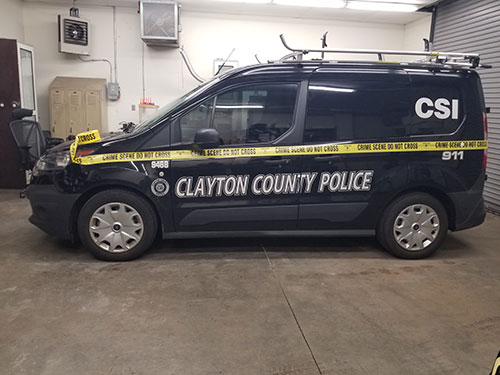 One Mission. One Vision. Your Future.
---
Sworn Employment Opportunities
Physical Agility test
Video Walk Through
E-911 Communications Dispatch Employment Opportunities
Non-Sworn Employment Opportunities
Assistant Aviation Manager
Animal Control Kennel Technician
Did You Know???
Clayton County is home to the Atlanta State Farmer's Market

Clayton State University is nestled within our County's borders

Gone with the Wind is said to have been filmed here

The Beach at Clayton County International Park aka "The Atlanta Beach" can be found here

Clayton County is home to Reynolds Nature Preserve, which encompasses 130 acres of serenity!
Where do I take the written exam(s)?
Applicants must take (1) of the following written exams at a local Technical College or University. While we have no sponsoring affiliation with Clayton Statue University, we often refer applicants living in or near Clayton County to seek testing at Clayton State University for convenience.  Passing scores on the following exams will accepted by the Clayton County Police Department as meeting the written examination requirement when applying for the position of Police Recruit.
Accuplacer

Classic:

Reading – 55
Writing – 60
Numerical* – 34

Next Generation:

Reading (ANGR) – 224
Writing (ANGW) – 236
Arithmetic (ANGM) – 229

ASSET

Reading – 38
Writing – 35
Numerical* – 35

COMPASS

Reading – 70
Writing – 32
Numerical* – 26

SAT

Prior to March 2016

Critical Reading – 270
Verbal – 280
Math – 310

After March 2016

Reading – 11
Writing and Language – 15
Math – 18

ACT

Reading – 14
English – 13
Math – 14

CPE

Reading – 75
English – 75
Math – 75
*Score is used for evaluation purposes only and does not determine whether a candidate successfully passes the exam. Persons attending a BLETC at one of the Technical Colleges in Georgia are required to achieve this minimum score.
How do I submit my written exam scores?
You may submit the official copy of your passing exam scores in-person or by certified mail to:
Clayton County Police Department
Attn: Background and Recruitment
7911 N. McDonough Street
Jonesboro, Georgia 30236
Will I be familiar with the agility course before I take it?
Yes, the Background and Recruiting Unit will give a presentation and a walk-through before you are officially timed on the test. You can also watch the video walk-through at the bottom of the page or through the link below.
What are some of the background issues that might disqualify me from the process?
Automatic Disqualifiers are explained thoroughly under the Human Resources Job Announcement; however any questions should be directed to the recruiting unit by calling the Recruitment Hotline at (770) 477-3534.
How long will the background process take?
The background process can take as little as 30 days depending on the information disclosed, however, some backgrounds may be longer based on the information that needs to be researched. Note: your initial application filed with Human Resources is good for up to a year; after a year, you will need to reapply for the position in which you seek.
How can I expedite the background process?
Honesty, responsiveness, and thorough completion of every phase of the application and background will expedite your process, the longer you take to submit required documents or provide truthful explanations the longer your process will take.
How long is the Police Academy?
The CCPD Police Academy is approximately 16 weeks in length, however, Ga. Post Certified Officers with less than 24 months of patrol experience will be required to attend and complete the 11 week academy. Ga. Post Certified Officers with over 24 months of patrol experience will may be required to in house training.
How do I contact a Recruiter?
How do Promotions/Transfers work at Clayton County Police Department?
Officers with the Department who have maintained five years of continual service are recognized as Police Officer III. Officers are eligible to apply for the rank of Sergeant after three continuous years of service. Promotions to the ranks of Sergeant, Lieutenant, Captain, Major, and Deputy Chief are made by the Chief of Police in accordance with Clayton County Civil Service Rule, Police Department Promotional Procedures.
The rank of Detective is an appointment made by the Chief of Police, and this assignment is at the discretion of the Chief of Police.
Lateral transfers to specialized units within the Department are available to qualified officers. Specialized units include but are not limited to Tiger Unit. Unit, Traffic Unit, Motorcycle Unit, DUI Unit, Accident Investigations, Aviation Unit, Narcotics Unit, Crime Scene Investigations and Criminal Investigations Division.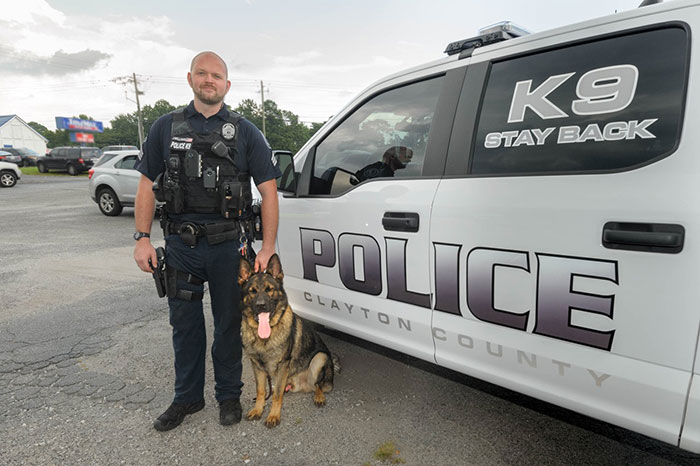 Police K-9 Unit
Sergeant J. Williams and his K-9 Partner Waro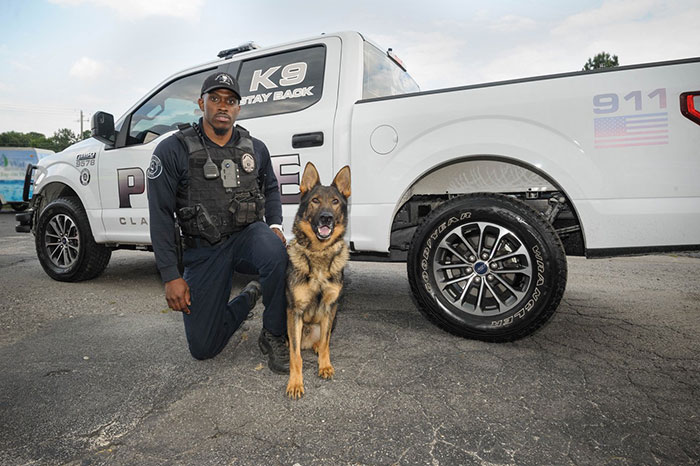 Police K-9 Unit
Officer A. Kendrick and his K-9 Partner Homer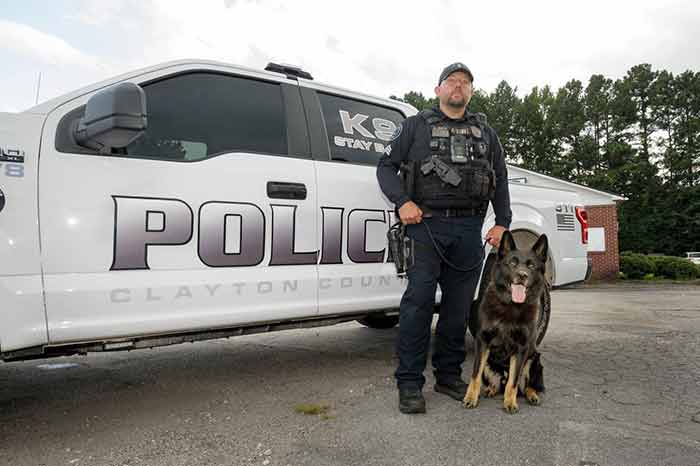 Police K-9 Unit
Sergeant S. Buice and his K-9 partner Goran