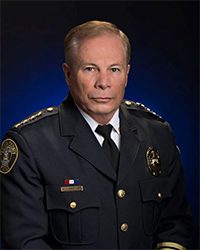 Chief Michael Register
7911 North McDonough Street
Jonesboro, GA. 30236
770-477-3601
Chief Michael J. Register has over 30 years of law enforcement related experience, and also 22 years of military service to include combat operations in Afghanistan. Chief Register believes the modern police department must take a "whole of government" approach by partnering with other government entities and the community to improve the quality of life for its citizens, make the community safer and attract new business to the area.
Prior to joining the Clayton County Police Department, Chief Register managed a law enforcement centric program at the Pentagon in Washington D.C. that was responsible for locating and identifying individuals and criminal and terrorist organizations globally that facilitated, funded or used improvised explosive devices (IEDs) to threaten the security and stability of the United States and its partners. He also assisted in advising U.S. government, partner nations and law enforcement organizations such as the New York Police Department and the Los Angeles Police Department in counter-terrorism related subjects.
Prior to his position at the Pentagon, Chief Register retired from the Cobb County Police Department as a Lieutenant in 2005, where he had been instrumental in development of the department's Georgia P.O.S.T mandated Police Academy, and also worked in the department's Special Operations Unit to include stints on SWAT, the Crime Suppression Unit and Tactical Team. Chief Register also served 22 years in the U.S. Army Special Operations community, where he was a member of the 11th and 20th Special Forces Group and deployed to over nineteen countries, to include combat operations in Afghanistan, where he served on a Special Forces mobile recon element.
Chief Register holds a Master's Degree in Public Administration from Columbus State University, and is also a graduate of the Georgia Law Enforcement Command College, where he is currently an adjunct instructor. He is a member of the Phi Kappa Phi Honor Society. Chief Register is currently seeking a Doctorate in Public Policy and Administration with a concentration in Terrorism and Conflict Analysis and Resolution. He also attended Northwestern University's prestigious Command and Staff program for Law Enforcement executives, and also serves as a member of the FBI's Joint Terrorism Executive Board. He is a certified Georgia P.O.S.T Instructor with specialized instructor certificates in Defensive Tactics, Emergency Medical, Firearms and Driver Training. Chief Register is a member of the International Association of Chiefs of Police and the Georgia Chiefs Association.
Captain Tina Daniel
7911 North McDonough Street
Jonesboro, GA. 30236
770-472-8023 (Desk)
404-557-3406 (Cell)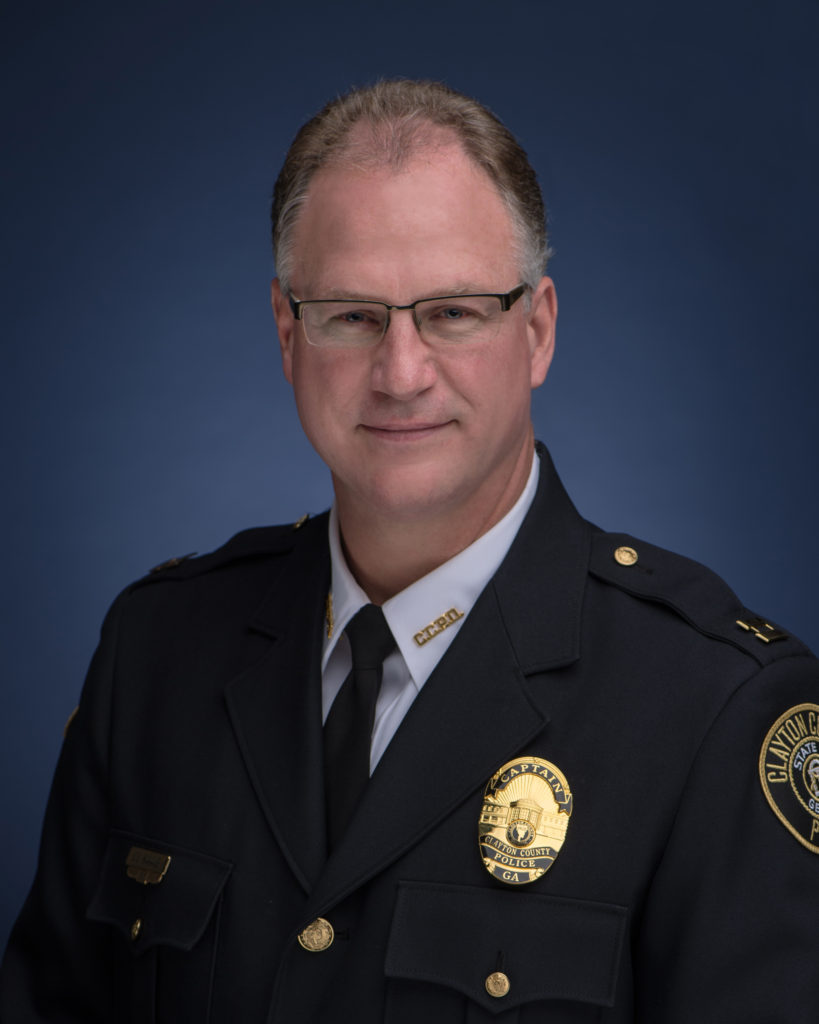 Captain Craig Hammer
7911 North McDonough Street
Jonesboro, GA. 30236
770-477-3603 (Desk)
678-873-0027 (Cell)
Mission Statement
The mission of the Office of Professional Standards is to ensure that the integrity of the Department is maintained by recruiting qualified applicants; developing and implementing policies that abide by CALEA Accreditation Standards; and through a system of internal discipline where objectivity, fairness and justice are assured by an intensive, impartial investigative and review process.
Office of Professional Standards FAQs
Major Kenneth H. Green
7911 North McDonough Street
Jonesboro, GA. 30236
770-477-3644 (Desk)
678-618-4556 (Cell)